Well, I survived yet another stressful week of work. In the middle of the week I received a visit from Orpheus, Penelope Caerphilly's owl, but didn't have time to post about the wonderful package he brought.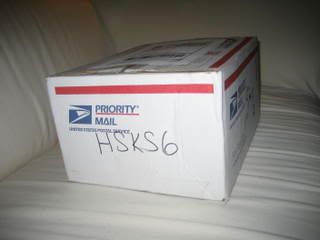 Penelope is in Slytherin, and I'm in Ravenclaw, so she drew the directions very carefully for Orpheus.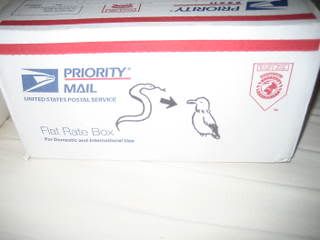 A sweet little owl holding a scroll of parchment with a personal note from Penelope was right on top.
Oh my goodness I LOVE HIM! I play with him all the time and he makes me smile. He always wins staring contests. His name is Orlando (Lt. Commander Orlando Hoo, actually, according to my husband).
Look at all the pretty blue presents inside my box! It's like birthday (1000)!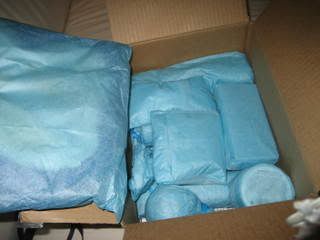 It's so amazing, I've been repeatedly unpacking and repacking the box, just so I can experience the joy of it all over and over again! Look at what was stashed inside!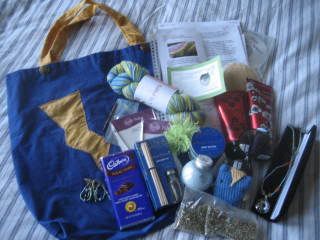 First of all, look at this handmade tote bag (a girl can never have too many bags!).
She even sewed on soaring ravens!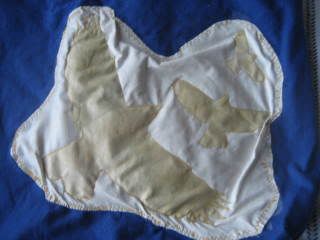 What amazing details!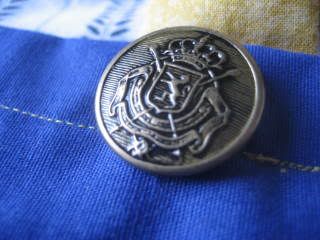 Penelope must know how much I love learning new things (being a Ravenclaw and all), so she gave me instructions on how to knit socks 2-at-a-time, 2 sets of circular needles, and a sweet pattern to use with my new sock yarn! It's Knitted to a T yarn, in "Not a Cloud in the Sky." These socks will definitely brighten up my day! She also gave me a CD of more patterns, because once I start knitting socks 2 at a time, I probably won't want to stop. She also made me stitch markers and sent wool soak and a beautiful cable needle, just what I need!
Who doesn't love being pampered? Penelope must have known I needed some extra love, because she sent a variety of potions, lotions, a beautiful handmade necklace, and sunglasses to keep my cool outside.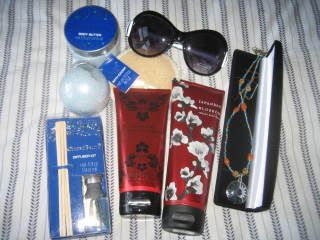 Penelope sent me 2 new friends, the little owl and a green pygmy puff. Luckily, I won't have to share my chocolate with either!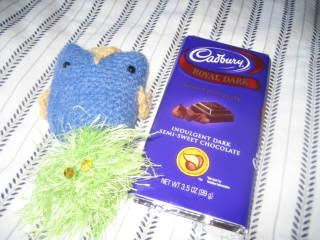 And she didn't forget my kitty! Gifts for everyone!
And here's the aftermath! The smarmy kitty loves paper, so she had a blast jumping in it and tearing it to shreds!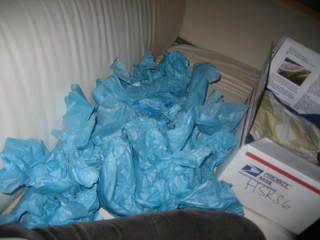 Thank you thank you thank you, Penelope!!!